The Aroma King Gem 600 is a hidden gem amongst disposable vapes. Despite the overwhelming popularity of disposable vapes over traditional cigarettes, this particular vape has managed to carve out a special niche in the disposable vape market. It sets itself apart by delivering an exceptional vaping experience, combining convenience, flavor, and satisfaction into one convenient package.
In this blog, Vapor Shop Direct will discuss why Aroma King Gem 600 disposable vape is an amazing option for all vapers.
The Astonishing Design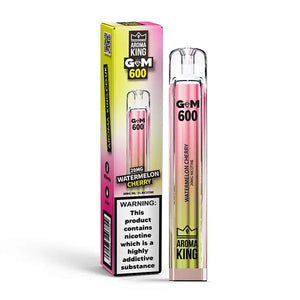 The Aroma King Gem 600 Disposable Vape boasts an eye-catching crystal design that effortlessly catches the attention of those around you as you indulge in vaping. With meticulous attention to detail, this device showcases a sleek and slender profile complemented by smooth lines. Its purposeful design not only adds aesthetic appeal but also enhances the overall comfort during usage.
The device's slim form factor makes it a convenient companion that easily fits into your pocket or bag, ensuring effortless portability wherever you go. Its ergonomic shape further enhances the vaping experience by providing a natural grip that minimizes strain and discomfort during prolonged usage. This thoughtful design consideration allows you to enjoy extended vaping sessions without any compromise on comfort.
The transparent mouthpiece adds to its lavishing look while being extremely gentle on the lips. This type of mouthpiece is pretty uncommon. It's buttonless in operation you can simply inhale and go to different dimensions of vaping! It has a blue LED light on the bottom of the vape that lights up when you are puffing on the vape.
The Top Flavours
The Aroma King Gem 600 offers an impressive selection of 19 flavours, catering to both traditional and adventurous preferences. Whether you crave familiar and timeless tastes or seek bold and innovative combinations, the Aroma King Gem 600 Disposable Vape ensures an elevated vaping experience that will leave you thoroughly satisfied.
The flavor options include Aloe Cucumber, Blueberry Cherry Cranberry, Strawberry Kiwi, Blue Sour Razz, Cola, and several others. We aren't going to delve too deep into every flavour there is in this blog, but we've picked the crowd favourites out for you!
This classic beverage-inspired e-liquid captures the essence of everyone's favourite carbonated drink in every puff. Indulge in the unmistakable taste of a bubbly cola, complete with its distinct blend of sweet and tangy notes. Whether you're a cola enthusiast or seeking a nostalgic vaping experience, the Aroma King Gem 600's Cola flavour is sure to satisfy your cravings and provide a delightful vaping experience that's both refreshing and irresistible.
This invigorating blend combines the soothing essence of aloe vera with the crisp and refreshing taste of cucumber. Each inhale unveils a wave of coolness that revitalizes the senses, making it an ideal choice for those seeking a rejuvenating vaping experience. Immerse yourself in the sensation of crisp cucumber slices complemented by the soothing properties of aloe vera, providing a soothing and cooling vaping experience that's perfect for any time of the day.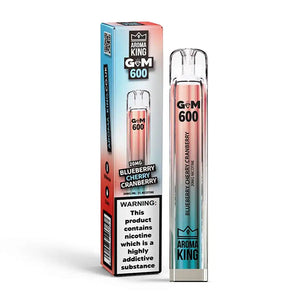 Experience the juicy and succulent essence of ripe blueberries, complemented by the bold and vibrant taste of cherries. The addition of cranberries adds a tangy twist that balances the sweetness and creates a truly refreshing vaping experience. Let the Blueberry Cherry Cranberry flavour from the Aroma King Gem 600 transport you to a fruity paradise, where each puff is filled with a tantalizing blend of flavours that will definitely make you want more.
Aroma King Gem 600's Performance
The performance of the Aroma King Gem 600 Disposable Vape is nothing short of exceptional. Equipped with advanced technology and expert craftsmanship, this vaping device delivers an outstanding performance that exceeds expectations.
This disposable has a 500mAh high-performance battery which could provide you around 600 puffs per vape, which is a quite decent feature among the other disposables. The Aroma King Gem 600's heating element is designed to provide rapid and even heat distribution, resulting in smooth and flavorful vapour production with every puff. Whether you're a cloud chaser or a flavour enthusiast, this disposable vape delivers impressive vapour density and rich, that will satisfy even the most discerning vapers.
The Aroma King Gem 600 is available in 0mg and 20mg nicotine strengths, depending on whether you need a nicotine vape or a non-nicotine vape. It is perfect for ones who quit smoking and starts to vape to gradually decrease their nicotine levels.
Specifications
Buttonless operation – simply inhale
Blue LED light
Fully charged 500mAh
2ml capacity
Disposable Vaping Pod
0mg and 20mg Nicotine Salt
Verdict
The Aroma King Gem 600 is a top-notch vape with a number of unique features and flavours. Its design is elegant, and its performance is exceptional. We suggest you to purchase this as soon as possible or else you're missing out on a lot!
If you've made up your mind on buying Aroma King Gem 600 disposable vapes, you'll need a trusted vape shop to make sure you're getting the best. That's where Vapor Shop Direct comes in. Browse through our online store and place your order.